WHY DOMES ?
Beautiful and practical.
Geodesic Domes provide uniquely beautiful and spacious living environments. But there are also many other practical reasons why you should consider domes as an alternative to traditional box structures.
1. NO ROOF:
Domes are roofless which means that wind doesn't have the opportunity to create enough pressure to lift the structure.
2. NO CORNERS:
Free space inside the structure allows for optimum air circulation and constant temperatures.
3. NO FLAT WALLS:
Withstands greater forces by allowing wind and elements to easily pass by.
4. NO INTERNAL SUPPORTS:
GeoDomes require less building materials than standard structures and contain more useable space.
5. HIGH VOLUME:
High volume to Surface Area Ratio means less building materials and more useable space.
6. EXTEND GROWING:
Sunlight refraction through the large Panorama window assists in solar heat gain keeping the inside warm.
7. LIGHT WEIGHT & STRONG:
Each dome strut tube shares the weight of the structure creating a super strong space frame.
8. CUSTOMISED:
You choose the size Dome you need according to your purpose. Other options include additional screened windows, frame colours and Dome Cover colours. We can even have your Dome Cover PRINTED for Corporate applications, etc.
9. MOVEABLE:
Your GeoDome can be easily disassembled and moved to another site if needed.
10. RUST FREE:
Your Dome frame struts are made from sturdy galvanised steel tube, then powder coated. The frame is kept dry and protected from the elements by the heavy duty GeoDome Cover.
Did you know that a dome creates the largest possible living space for the least amount of building materials ? And as the dome size increases - so does the advantage. A 5 metre dome has a floor area of almost 20 square metres.
By increasing the diameter to 8 metres you create a floor area of close to 50 square metres - a 250 % gain for only an additional 3 metre width ! In addition to this you gain a majestic 4 + metre ceiling height and larger panoramic window.
Unlike other tents and marquees, GeoDomes are exceptionally resistant to strong winds. Because of their shape, wind flows over the top of the Dome preventing it from being blown over. GeoDomes like those in our range have endured 100+ km/hr winds with no problems. Geodesic Domes are used in harsh environments like Antartica and are a testament to their strength.
Portability: Your new OUTBACK DOME will be delivered in easy-to-assemble kit form. Our GeoDomes come with a clear, easy to follow BUILD MANUAL and the smaller Domes can be erected by 2 people in a matter of hours. Only basic hand tools and a step ladder are required. What's more, they are not complicated and use only 3 different length struts - each strut is clearly marked. Domes can be assembled from bottom to top or from top down. Once the frame is assembled and tightened, the cover is slid into place and attached to the frame via the patented strut bar system.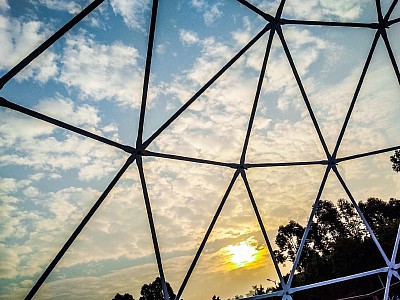 Dome frame formed by multiple triangles making a super-strong Structure.