70+ Uses for Domes:
How to create your own unique and inspiring space
There are literally dozens of ways to enjoy our beautiful yet practical GeoDomes apart from their obvious Glamping applications.Whether your need is for short-term accommodation or a semi-permanent habitat, OUTBACK DOMES has got you covered. 
Let your imagination take you into a new world of possibilities as you discover over 70 applications for your new Dome:
GLAMPING :
Glamping Dome

Eco-tour Base Camp

Hotel Lounge Area

Campsite Cabins

B & B Accommodation 

GARDEN & FARM :
Greenhouse Dome

Plant Propagation Dome

Organic Garden Dome Aquaculture / Hydroponics 

Dome Farm Stay Accommodation

Aviary 
EDUCATION :
Classroom or Homeschool Dome

Planetarium

Pre-school / Kinder Sheltered Playground

School Events / Spring Fairs 

Small Group Meeting Space

Registration / Information Booth
FOOD :
Relocatable Cafe

Additional Seating Area

Beer Garden Bar

Eatery Dome
BUSINESS & COMMERCE :
Pop-Up Retail Shop

Merchandise Dome

Shopping Centre Kids Photography Studio

Home Office

Market Stall

Custom printed Cover Promotional Dome
SPORTS : 
Golf Club Shop

Ski Resort Facility

Amphitheatre 

Dome

Yoga Dome 

Gym / Day Spa

Gaming Centre

THE ARTS :
Immersive Projection Dome/Cinema

TV Studio Set

Theatre

Gallery

Pop-up Library

Chapel / Meditation Dome

Artworks Display Dome

Interactive  Exhibition or Museum Dome

Recording Studio

Half-Dome Stage

Roof
EXHIBITIONS, MARKETING & PROMOTION :
New Product Launch

Fashion Show Dome

Regional Visitors Centre Trade Show Dome

VIP Area Motor Show Showroom

Unique Convention Centre Space
PARTIES & EVENTS :
Wedding Chapel 

Concert Stage Cover

Party Space Dome

Disco Dome Night Club

Corporate Event Space 

Dance Floor
HOME & SHELTER :
Gazebo

Home Gym

"Bug-out" Survival Shelter

Homeless Accommodation 

Emergency Relief Dome 

Temporary Housing

Workshop

Teen Retreat

Backyard Party Dome

Band & Recording Studio

Additional Storage 

Granny Flat

Man-cave / She-shed

Home Spa / Swimming Pool season extender            

Studio / Home Office             

Garage / Carport Games Room (e.g. Pool / Snooker table)

Next Page : WHY DOMES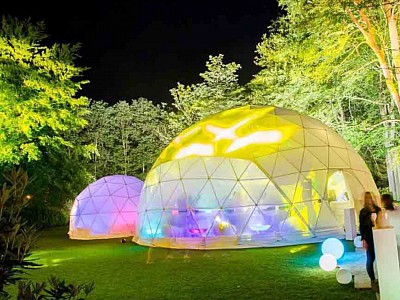 Party in a dome.