About OUTBACK DOMES:
We can help you fit into nature -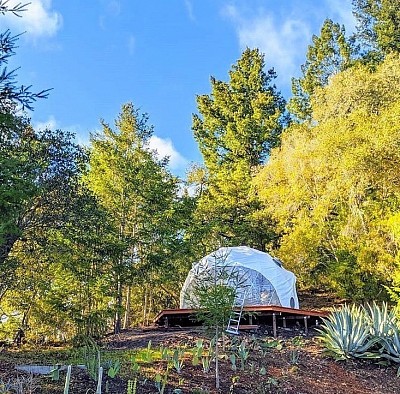 Domes create luxury getaways allowing you to enjoy nature in short or long-term stays.
OUTBACK DOMES gives you the opportunity to create your own space in the great outdoors. You feel part of what's going on outside - and at the same time  protected from the elements. 
Domes combine beauty with strength and are the most efficient structure known. They will easily withstand high wind loads and are even earthquake proof ! It's no wonder that we love them !
Over the past couple of years OUTBACK DOMES have become Australia's experts on Domes and related products. Our customers appreciate the free advice and the service we offer. 
Also, we are continually adding new options that help make your Dome unique.
OUTBACK DOMES are located in the beautiful Yarra Valley - about an hour's drive east of Melbourne - however we ship to customers all over Australia. If you need more information or want to get a copy of our latest  product price list, just send us a message through our contact page.