HOW A GLAMPING DOME COULD MAKE YOU MONEY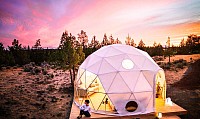 Potential new business.
Do you own a little slice of heaven that would be perfect for a Dome?
Are you looking for a fun way to make an additional income by offering your guests a unique Glamping experience? 
FThe growth of Airbnb, Glamping Hub and the like shows that people are looking for new accommodation experiences - experiences YOU could provide for a relatively low investment.
Glamping has already established itself as a competitor to traditional forms of tourism in Europe, and the market is now expanding here in Australia. 
Glamping-style accommodation can help increase your revenue - especially in the cooler months when traditional Camping is in its low-season.
 GeoDomes  - in our opinion - offer the most comfortable and practical alternative camping options for semi-permanent sites. 
Here are some of the things to consider:
1. ACCESS:
Find a location that is both accessible and picturesque. Guests want to enjoy privacy. Will they be able to access the camp site by car or will they have to carry their belongings to the Dome.. Short walks are generally OK for most guests. 
2.  ASPECT: 
Will your dome be facing the sun? In the Southern Hemisphere it is a good idea to face the domes' panorama window facing NORTH. In this way, the dome receives the maximum amount of light and warmth even in the cooler months. Our domes have a surprisingly pleasant feel during even the coldest winter days with solar gain coming through the large clear panorama window. 
But facing North may not be possible if you have a spectacular view that you want to show in another direction. In this case we would suggest that you fully take advantage of your view but order some additional clear windows that are north facing. 
Our OUTBACK DOMES range  of dome covers can be custom made to suit your needs at a reasonable cost. 
 3. SITE: 
Be careful about where you intend to establish your Dome. We do not recommend that you set-up under large trees. Australian eucalyptus trees are generally shallow rooted and the wood is brittle which can lead to large branches breaking off with little warning. Do not risk your safety or the safety of others. Other species of tree or large bushes may not pose a risk to your investment. 
4.  POWER: 
Will your site have access to power? Mains power could be made available to the Dome using a heavy duty outdoor extension cord. Mains power might be desired if you want to offer air conditioning or a small fridge for the warmer months. If not, you could easily provide clean power via a solar panel or two and a deep cycle battery. The battery can then be connected to an inexpensive sine-wave inverter which converts 12V DC into 220 V AC - perfect for charging mobile phones, tablets and the like.
5. HEATING: 
Want to keep warm in the winter? We all like the feeling of sitting near a warm fire. The good news is that you can instal a small 'pot-belly' stove inside one of our Domes and enjoy the primal delights of warmth in your own little 'cave'. We offer an inexpensive CHIMNEY FLUE KIT that includes brackets that connect all the hardware to your Dome Frame and safely exits the smoke through the Dome Cover.. Dome covers can be made with the flue hole already installed or you can easily retro-fit a flue kit later on. 
6. FLOORING:
Domes can be readily erected directly upon the ground, however this is not recommended for accommodation A very basic but temporary solution would be to use a heavy duty tarpaulin under the dome. 
If you intend to offer your guests the best possible Glamping experience, our suggestion is to consider a floor. This floor might be concrete or even paving, but most Glampers like the look and feel of timber flooring. OUTBACK DOMES can supply a bespoke FLOORING SYSTEM for any Dome size if required. Please discuss your needs with us and we will offer you advice on your application.    
7. FURNITURE:
All our domes have plenty of space for a full-size double bed and bedside tables. There is also enough space for a couple of comfy chairs to sit and enjoy a fresh cuppa while taking in the view. The larger 6  metre dome has an additional 10 square metres of floor space which could be used for a small kitchenette. And with a massive 50 square metres of floor area, the 8 metre Dome has two and a half times as much space as the smaller 5 metre dome!  This means that the dome could be easily divided into 2 or 3 rooms with the bedroom/living area separate from a kitchenette and an ENSUITE WITH SHOWER, VANITY AND TOILET !
An 8 metre dia.  Dome has a ceiling that is over 4 metres high giving an exceptional feeling of space with additional raised storage possibilities.
Would you like further information? OUTBACK DOMES  have published a brochure titled: HOW TO SUPERCHARGE YOUR CAMPSITE REVENUE. If you would like a FREE copy posted direct please send us your details via the CONTACT US page. 

The video below gives you a glimpse of the future site for a 10 Metre diameter luxury Glamping Dome situated in the beautiful Capertee Valley approximately 3 hours' drive from Sydney.